Get Amazon FBA refunds from the highest-rated guardian of seller profits
Stop wasting time tracking and filing FBA refund claims.Let us do the dirty work for you.
How it works
YOU WON'T MISS A SINGLE CLAIM
It isn't safe to assume that FBA reimbursements and fees are always processed correctly. With so many sellers and so much inventory, mistakes happen. Refunds Manager recovers funds that would otherwise be lost.Start seeing reimbursements in less then 24 hours.
100% COMMISSION-BASED
There are no monthly fees and no long-term commitments, meaning you have nothing to lose and everything to gain. Our professionals will find and locate your refunds, and when you get paid we earn a 25% commission.
AUDITED & APPROVED BY AMAZON
We've been in business for over ten years. We're listed in Amazon's Appstore, and our security was reviewed & approved by Amazon through an independent audit. You're in safe hands.
How It Works
You sync your Amazon seller account with RefundsManager
We search for customer return issues,damages ,losses, misapplied fees and more
Your designated account auditor submits and tracks all claims for you
Sign Up
We Resolve The Highest Number of FBA Issues
01.
Transaction
Reconciliation
We reconcile all transactions per item, including the amount received, order, returns, reimbursements and removals against actual stock.
02.
Destroyed
Items
We hunt for items destroyed by Amazon without your permission so we can get you FBA reimbursements .
03.
Restocking
Fees
We find orders that were returned over 30 days for which Amazon didn't give you the 20% restocking fee per policy.
04.
Customer Refund
Overages
When your customers receive a larger refund than what they originally paid (and you get charged for that).
05.
Missing Order
Credits
If a customer received a refund but you didn't get the amount credited back in your account, we'll file a claim if it's been longer than 45 days.
06.
Damaged
Shipments
When your inbound shipments are damaged by the shipper or not received , we can reclaim the approximate cost of the inventory for you.
07.
Weight and
Dimension Fees
If you've been overcharged for weight or dimensional fees, we can get an FBA refund for affected orders .
08.
Commission
Fees
You might not realize that you are being overcharged on the commission fee for a certain product.
09.
Warehouse
Losses
If an item was lost or damaged in an Amazon warehouse, Amazon is supposed to refund you. If they don't, we'll handle the reimbursement claim for you.
10.
Customer
Replacements
Amazon might send a replacement to the customer before the customer returns the item. If the original isn't received within 45 days, we'll make sure you aren't charged for it.
11.
Missing
Reimbursements
When Amazon shows that they have reimbursed a claim amount, but actually haven't done so yet, you might not notice. We will spot this error for you and secure the FBA reimbursement.
12.
Inventory
Adjustments
Has Amazon claimed to place an item back into your inventory? You might not know how to check if it has been handled. We'll discover any discrepancies and get the refund.
13.
Shipment Stock
Counts
Sometimes, stock gets deducted after the shipment is closed. You might lost out on the cost of the inventory. We can recover this for you.
14.
Returned
Inventory Errors
The wrong item could be returned and scanned into your inventory, causing a loss of your actual item. We'll get the cost of it back.
15.
Chargebacks
When a chargeback is not refunded, you can be wrongfully charged the fees associated with the transaction.
16.
Damaged
Returns
If a return is damaged by a carrier or Amazon, you're owed the product amount. We'll claim and secure the reimbursement.
17.
Missing Removal
Orders
Removal orders are sometimes necessary towards lowering your monthly fees. If you don't receive the inventory, we can reclaim a sizable portion of its cost.
18.
Inaccurate
Reimbursements
When Amazon reimburses your claim, they don't always give you the full amount. We keep track of the exact amount to ensure you receive it.
19.
Inaccurate Order
Refunds
If Amazon doesn't reimburse the total appropriate amount of the original order, we'll discover this and follow up until you get the correct reimbursement.
Sign Up
Recover Funds Dating Back 18 Months
After you sign up and sync your account, our software goes to work. You can view any case inside Refunds Manager, and we'll notify you as soon as reimbursements come through.

Get started today and receive unexpected credits and FBA reimbursements in your Amazon Seller account.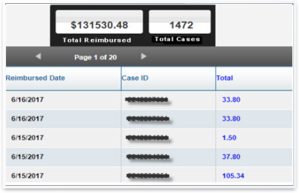 In line with Amazon's Terms of Service and approved by amazon
We always grant Amazon sufficient time to reimburse before opening a claim with them.
We follow the right protocol for each individual case type.
We NEVER automate correspondence with Amazon—every interaction is handled by your account auditor.
We're listed in Amazon's Appstore, and our security was reviewed & approved by Amazon through an independent audit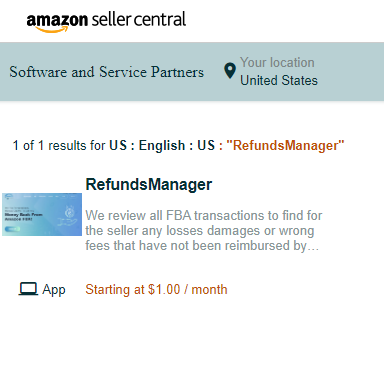 The Top Amazon FBA Refunds Service
For best results, the Amazon FBA reimbursement company you choose should use software to find more errors in your account than the human eye.
However, you should not use a software that files claims automatically. Choose a company that employs account auditors who check software reports, verify discrepancies, submit claims manually, and follow up with Amazon's support for you.
What Sets Refunds Manager Apart
Highest rated FBA refunds service
Original service in business since 2012
Over 10,000 US sellers use Refunds Manager
Expert US-based account auditors who file manual claims to communicate on your behalf and follow up on each claim
Approved and listed on the Amazon app network